Alls fair in Love and War?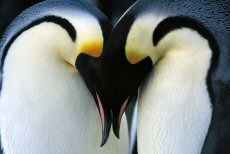 I've been reading a novel called "The Trial of True Love". The protaganist is head over heels for a women he can't have. Yep one of those stories, not a fantastic book but it got me thinking. Why is it so endearing to read/watch a guy pursue a women in earnest as opposed to a women chasing a man. (I don't know enough about gay couples to comment so I'll stick to hetrosexual relationships for this post though I'm sure it all applies).
Think about it, if a girl is chasing a guy with complete zeal and he is not interested the main assumption people make is that she is a - desperate b- shamless. Whereas when a guy chases a women relentlessly he is a - a stalker b - adorablely sincere. Why the distinction, or is it just me who sees it this way?
Don't get me wrong I'm not about to go down the men vs women route in the quest for love cos we know that nobody really gets an easier a time.
The Beatles said "all we need is love" most of us spend much or our free time when we are single in the pursuit of it, in a relationship - maintianing it and as parents you spend all your timing giving it. So as much as I hate to doubt the Beatles - yes we all need love but is it enough?
What is love with out understanding and respect? And what do you do if the one you love doesn't return those affections...
So my question is is all really that fair in Love and War?