Good Friday
Friday's here (cue
Friday I'm in Love - The Cure
) , it is time to celebrate, oh wait have to get through work first. Today work won't be so bad, why, well its
Jeans for Genes
day. I'm not sure if this is international for just here in the UK but the idea it everyone wears a pair of jeans to work or school etc and you donate a pound or two to the Jeans for Genes charity (they help kids with Genetic disorders). Loads of work places have dress down down etc (we don't), but it is always nice to come in wearing whatever you like, plus its a very good cause. It also has the added bonus of annoying the boss of another department, as she is the only one who likes us to dress 'properly'. I'm waiting for her to be annoyed that I'm daring to wear a t-shirt, cause its jeans day not t-shirt day...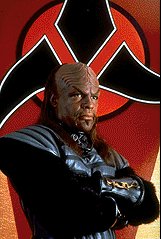 Another good thing happened yesterday,
New Scientist
published a letter
I wrote
, so I can have a silly grin on my face all day.
Lastly the funniest news of the day E is his wanderings far and wide has discovered a Professor Kling Ong. It took me a while to believe but this is his genuine name, how cool it that! And to him I say
KAHPLAH!